What's including in This Listing
1 x 20Amp EcoOnline

TM

Charging Regulator (1R/20Amp/24V)
Warranty from an Australian Company
Unlimited tech support
Charging Regulator Features
High efficiency PWM charging
Fully automatic battery charging
Charge Lead Acid Gel, Sealed or Flooded batteries
Battery voltage state LED indication
Temperature compensation
12V/24V auto sensing
ON/OFF switch
Complete electric protection - Overheating /Over discharging / Over charging / Load overload / Load short circuit / PV short circuit / PV reverse polarity / Battery reverse polarity
IP30 dust proof enclosure
Warranty
EcoOnlineTM offers the following Warranties:
3 Year Regulator Warranty
See Terms and Conditions page for further details.
Regulator Technical Specifications
Nominal System Voltage
12 V / 24V
Battery Voltage Range
9V-16V / 18V-32V
Recommended Solar Panel
36 cell / 72 cell
Maximum Short Term Current
20A
Maximum Continuous Current
15A
Temperature Compensation Coeff.
30mV/˚C/12V (at 25˚C)
Operating temperature
-10˚C to +45˚C
Physical Dimensions
144mm x 75.8mm x 45mm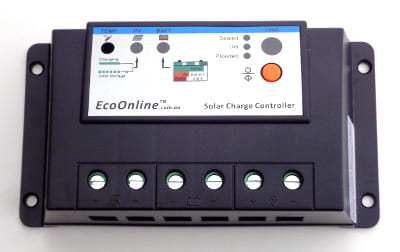 For Novices - Setting up a Solar Battery Charging System
Want to start playing with solar? Please note a solar charging system must be sized right, for efficiency, reliability and safety. For your convenience we have created the following online interactive calculators to help you build the perfect set up the first time around:
Solar Panel Sizing Calculator (this will help you understand the factors involved in

sizing solar panels

)
Solar Regulator Calculator (this will help you understand the factors involved in

sizing a regulator

)
Solar Wire Sizing Calculator (this will help you understand the factors involved in

sizing wires gauges

)
Safety Requirements
Only use 12V "nominal" (36 cell) solar panels with this regulator. Or 72 cell panel(s) for a 24V system.
EcoOnline recommends solar panel wattages and connected loads should not exceed:

240W solar power (at STC for a 12V system)

or

15Amp continuous load

for the 20Amp regulator.
This regulator is to be used for charging Sealed, Gel or Flooded

Lead-Acid type batteries only

. Not to be used for charging any other battery chemistries.
Check that the

maximum current

produced by the chosen solar panel(s) array

can never exceed the maximum allowable charging current for the battery

being charged.
Always use appropriate gauge wires. Never exceed the rated

Ampacity

(amp rating) of a wire. Keep in mind that

low voltage / high current wires situated in highly insulated environments cannot dissipate heat

and will have a much lower Ampacity.
The appropriate fuse

MUST

be installed on the

positive regulator to battery connection

.
Do not expose this regulator to water and/or high humidity and/or corrosive environments such as those involving marine applications.
Shipping Cost & ETA Estimate
For a shipping estimate, use the above calculator or just add this listing to your cart and click "View Cart" at the top right of this page, then "Estimate Shipping" on the cart page. The shipping estimated time of arrival (ETA) can be checked on our shipping calculator here. We ship from Melbourne Victoria.