PoolMasterpro™ PVC Strip Solar Pool Heating System - Manual Kit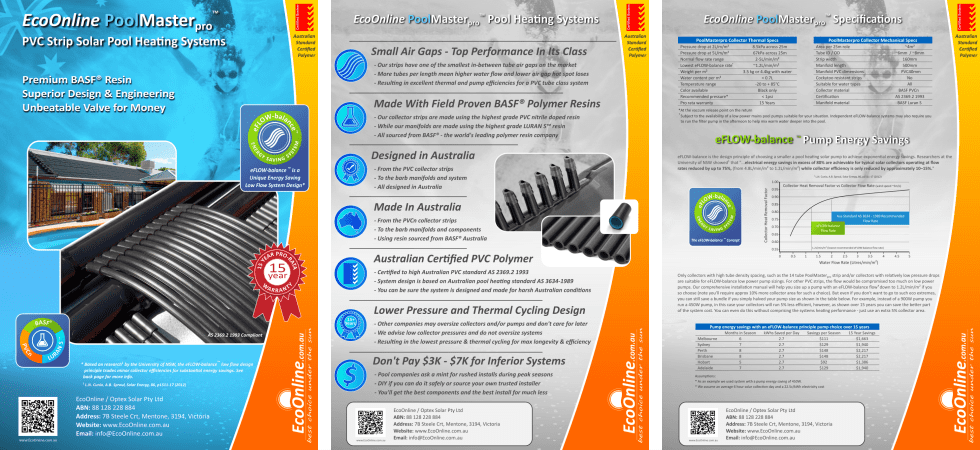 Introducing our newest solar pool heating system the PoolMasterpro™, incorporating one of
highest tube density profile
with the blackest premium and
proven grade BASF® PVC nitrile
compound - resulting in heating gains approaching the maximum theoretical possible for this type of strip heating collector. The PoolMasterpro™ combines EcoOnline's continual low costs ethos for premium green products, with
superb Australian product design and manufacture
, premium materials, near
universal versatility
on Australian roofs,
easy and well thought out installation
procedure with a comprehensive DIY installation manual and expert technical assistance - which makes it easily
your one and only choice
for your next solar pool heating system.
Manual Kit Listing
This is a manual kit listing for pools that don't have or can't install independent solar suction and return ports. It includes a 3-way ball valve and a non-return and is plumbed through the main filter plumbing (see manual for various plumbing configurations). Most people will put a timer on the main filter pump so that the system only runs during the warmest part of the day, hence achieving some level of automation. This kit can be upgraded to a motorized ball valve and special Dontek controller should you wish to automatic it down the track.
Lastly, please note: since pool filter pumps are "geared" for filtering flow as opposed to pump height you need to check that your filer pump can pump up to your required install height, as it may struggle for two story installs.
What's Included in Manual Kit





For Every 4m² of Collector Area Purchased

1 x 14 Tube hi-flow strip 160mm x 25m role (

4sqm

)
2 x 14 Barb 500mm length manifold pipe
1 x TREMsil 870 neutral cured silicone 300g tube - black

For Every Manual System Purchased

1 x 40mm PVC non-return valve
1 x 40mm PVC 3-way valve (for setting up a manual system)
1 x Locking collar kit
1 x Universal ALL stainless roof fixing set (band & pipe clamps)
1 x VacRel vacuum relief valve
1 x Pressure gauge
14 x Straight joiner barb set
1 x Drain down kit
1 x Silicon lubricant spray
Comprehensive installation manual
Warranty from an Australian company
Unlimited technical support

See manual for other required components and tools, downloadable from our EcoOnline download page.



System Features & Specifications



Collector Sizing Guide (for PoolMasterpro™ 14 Tube Strip)
Our recommendation is to use 75% - 100% coverage of your pools water area as a first approximation.



Water Area = Length x Width x Pool Shape Factor



However, for more accurate sizing please use our interactive sizing calculator as there are a number of specific factors that may need to be taken into consideration.



| | |
| --- | --- |
| Pool Shape Factor Table | |
| Rectangular | 1.0 |
| Oval | 0.79 |
| Kidney (or Freeform) | 0.85 |
| Round | 0.79 |
Pump Sizing Guide (for PoolMasterpro™ 14 Tube Strip)
To size your pump we have created tables where you can obtain a maximum recommended and minimum recommend pump power range based on the pressure drop across our 14 Tube Hi-Flow Strip and Australian Standard recommendations. These are contained in the manual, which can be download from our
EcoOnline download page
. Please, note: for independent you can use your own pump as long as it's within the recommended input power range.
System Plumbing Options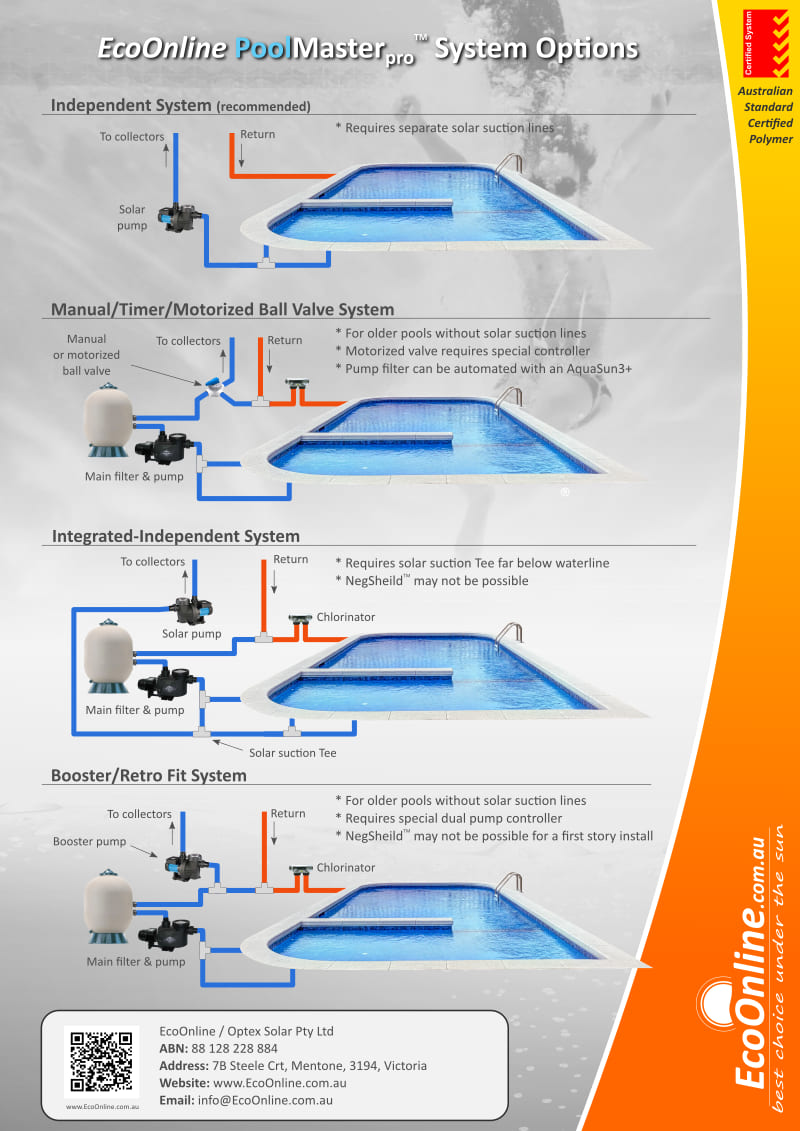 Warranty
EcoOnline™ offers the following Warranties on system components:
15 year return to Pro-rata limited Warranty on PoolMasterpro™ collectors
See
Terms and Conditions
page for further details.
FAQs
Q. How many sqm of collectors do I need?
A.
Please use our
interactive sizing calculator
to accurately size your collector area needs, if you have any difficulty please contact us. Note: we frown upon the practice of selling you more coverage than what you actually need for your heating goals - to back our sizing recommendations we provide a sizing guarantee.
Q. What is the freight cost to my postcode?
A.
Please use the shipping calculator in the listing. Simply enter your postcode and the correct number of panels to ship. We will use this cost on the invoice.
Q. Can I use my existing controller and mains power pump?
A.
You can use your existing controller and pump if it's in good working order and the correct size. We have pump sizing tables in our manual downloadable from our
EcoOnline website download page
.
Q. Can I use my filter pump and save electricity by not installing a second pump?
A.
It is a false economy to use a large filter pump for solar applications – the pump still has to expend energy to pump water to the roof reducing filter flow, hence there is no free energy gained. Besides this we don't recommend running a high power filter pump for 6 hours per day for the solar side (potentially over pressurizing panels) if you don't need to filter for that long. An independent system with a well matched small pump will save you money in running costs and look after your panels in the long run.
Q. I don't have independent solar lines installed on my pool can I tee into my main filter pump suction line?
A.
Generally we don't recommend this as you may have priming issues with your main filter pump during start up due to air been drawn in from the solar line Tee you installed. Whether your filter pump will deprime in this case will depend on how far below the waterline you installed the solar Tee. Note, a non-return on the solar line will not help here as non-returns are not generally air tight. If you do not have independent solar lines and can't install a Tee far below the water line (minimum say 1m below) then your options are a manual system, a booster system or a motorized ball valve option, see manual for plumbing diagrams.
Q. Do we have installers?
A.
At present unfortunately no we do not have installers as we ship around Australia. However, our manuals are very comprehensive and cover most situations and issues. There is also unlimited tech support available. Most handymen/trades people can install our systems. From what we hear, solar pool heating installs are very seasonal, hence most specialist pool heating installers are run off their feet during the install season, this means they charge and arm and a leg for poor rushed installs. Our advice is if you can DIY safely or source a trusted installer that will take his/her time, you will save a great deal of money and headaches.
Q. Can I download your comprehensive manual before I purchase?
A.
Yes, in fact we highly recommend you check over the manual to get a good idea of installation before you purchase. The manual can freely be downloaded from our
EcoOnline download page
.
Q. Is this system easy to install for tiles or metal roofs?
A.
Yes the system is easy to install for a relatively experienced DIY or trades persons. (Please note safety notice when climbing up on a roof.)
Q. Can I slow the flow to increase the temperature gain?
A.
No, this is a common misconception. Slowing the water flow will result in a warmer outlet but also less harvested energy overall since there is much less warm flowing. If you slow the flow collector is being made to work at a higher temperature and hence a lower efficiency. Faster flow rates better strip the heat from the tubes (up to a point of diminishing benefit). Optimal flow rate is achieved at 5L/min/panel. Oversizing flow rates beyond 5L/min/m² will not provide more heating but can have a detrimental effect on the collector due to over-pressurization depending on the back pressure determined by the number and size of the eyelet returns to your pool.
Safety Requirements and Product Limitations
Warning: Due to the potential of falling from heights, mounting the solar collectors on a roof or structure at heights should only be undertaken by a professional installer, unless you are accustomed to and confident of performing the work safely.
PVC tube systems are not recommended for cockatoo prone areas.
Collectors cannot be installed below the waterline of the pool.
Top feed system configurations are not recommended for frost prone areas - use bottom feed only. See manual for definition of "top feed system".
Note: for manual pool heating systems running off a main pool filter pump, please check that the pump is large enough to accommodate the extra load of supplying water to the collectors at the required pump height. This is especially important for second story installations.
Shipping ETA & Cost Estimate
You can check the shipping ETA, factory opening times and estimated shipping cost on our calculator here:
Click here for EcoOnline shipping info
Simply put in your post code and the cubic weight of the item to be shipping:
Cubic weight for this listing is
30
kgs
Please note: the shipping rate at checkout may differ slightly, for exact quotes please use the checkout.
Why buy from us?
Lowest price guarantee
Core values centred around quality products
We constantly strive to innovate
We stock spare parts for all our products
Courteous, knowledgeable and professional sales and tech support
Australian owned and operated business
---